With many years of experience in caring for our patients, the team at Earley Dental Centre understand that each patient has unique and individual needs. Comprehensive examination in our Oral health check, enables us to provide you with the best options for any treatment that may be required and to assist you in making an informed decision about what treatment option will be most suited to your needs. We will take the time to explain thoroughly all your treatment needs and expectations. This allows us to discuss all aspects (including any advantages or disadvantages and risks) that may apply to your treatment and care with us. We will also provide an estimate of cost and the associated time schedule for treatment.
Oral Health Checks and treatment planning has been for many years and remains a corner stone of the success that we have in working with all our patients. It is a vital part of the overall care that you will receive at Earley Dental Centre.
Whether it's a minor cosmetic niggle that's been bugging you, or you're looking to completely transform your teeth, we can provide the tailored cosmetic dental treatment you're looking for. We thoroughly enjoy planning and delivering your treatment and seeing you wear a newly restored smile at the end of the journey.
Great cosmetic dentistry starts by listening to you. We'll ask you questions about why you're unhappy with your teeth and what your expectations are for your smile after cosmetic dental treatment. Once you've heard our recommendations on how to improve your smile's anatomy, we'll run a fully itemised and customised treatment plan by you, so you're aware of the treatment and costs involved before starting your path towards a better smile.
The broad range of cosmetic dental treatments we offer means if you're looking to have more than one facet of your smile addressed, you can do so under one roof. We offer everything from teeth whitening and veneers to composite bonding and SmileFast, a holistic smile makeover process that addresses several cosmetic flaws cost-effectively and in very little time.
Do your gums bleed during brushing or flossing? This may be a sign that they are unhealthy. This is one of the earliest signs of gingivitis (inflammation of the gums).
When our teeth are healthy we barely give them a second thought, but as soon as we get a problem, it is hard to think about anything else. Having strong, healthy teeth and gums allows us to live our lives to the full. To be able to smile without embarrassment, eat with ease, and live without pain is wonderful. The best way to ensure your teeth stay this way is with regular visits to your dentist – and just as importantly, your hygienist.
Our hygienists, Anna and Yvette, are specially trained in looking after the health of your teeth and gums. Hygienists are educated alongside dentists for most of their training and are best placed to provide deep and thorough cleaning of the teeth and gums to prevent gum disease and decay. They also provide valuable oral health education and advice.
We also offer air polishing to help keep your teeth stain free and naturally white. Air polishing uses water, air and a fine, flavoured powder to gently and naturally remove plaque and stubborn stains from your teeth. This treatment painlessly rids teeth of the stains caused by tea, coffee, red wine and nicotine and will return them to their spotlessly clean, natural colour. It is also strongly recommended before tooth whitening procedures, as it will help improve the final result.
Here at Earley Dental Practice, we're big fans of composite bonding for restoring unsightly teeth.
This minimally-invasive cosmetic treatment is excellent for addressing individual teeth that might have sustained a chip, crack stain or that require re-shaping and remodelling.
What is composite bonding?
Composite bonding uses thin sheets of composite resin to build up, shape and give a healthier shade to a tooth. The beauty of this treatment is that we're able to produce a highly accurate result, as the layers are added gradually, which gives us the opportunity to be incredibly diligent with the process. It also means you can expect a really authentic-looking end result that looks like it's actually your own whole natural tooth.
Composite bonding is often compared to veneers, as it addresses a lot of the same cosmetic defects. Whilst it's not as long-lasting, it is a less invasive process and can be carried out in fewer appointments – ideal for patients looking for a simple solution to aesthetic defects with their teeth.
What can I expect from the composite bonding process?
Composite bonding can be carried out in a single appointment, and involves the following steps:
Examination of the teeth that require attention. We will make sure there are no underlying problems such as decay, which will need attention before any cosmetic treatment is carried out.
Preparation of the tooth by roughening the area, so the composite resin layers can be applied and sculpted to the given tooth.
A UV light is used to harden the resin, and the tooth is polished to give the natural-looking finish of real tooth enamel.
What makes composite bonding great?
Superb cosmetic result.
Straight forward treatment with no drilling or anaesthetic involved.
Preserves most (if not all) if your natural tooth structure.
With the right oral care and maintenance, the results of composite bonding can last for an average of between 5-7 years.
Allows for careful planning and therefore a highly predictable outcome.
Tooth colour can darken as we get older and is also affected by food and drinks like tea, coffee, red wine and smoking. Whitening can be a really effective way to lighten your teeth without damaging any of the tooth surface.
There are various different treatments available and the active ingredient is usually hydrogen or carbamide peroxide. It lifts off stains from the enamel and only works on natural teeth.
At Earley Dental Centre we offer a home whitening system. We make custom tooth whitening trays and you wear these trays for around 10-14 days to achieve optimum results. We elected not to use Lights or so called Laser whitening since the outcome is generally much poorer than tray whitening, which is recognised as the gold standard. Tray based whitening is very safe and also less expensive than in surgery techniques using lights.
Dental implants and the revolutionary "All-on-4 dental implant" technique
We are one of only a few dental practices in Reading specialising in the "same day implant" technique and are proud to be at the forefront of dental implant technology. Dr Paul Niland, our highly experienced in house implant surgeon, has successfully completed many revolutionary dental implant solutions including the "All-on-4 dental implants" and "Same day teeth" techniques a truly state-of-the-art and remarkable procedure that can restore new fixed teeth in a day.
By using angled implants, placed directly into available bone, the procedure is far less likely to require bone grafting, which is normally associated with the placement of implants and can be painful. The well-documented ''same day implant'' technique means implants can be loaded immediately, letting you walk away with ''same day teeth'' and a smile you are proud of within 6 hours.
"All on 4 dental implants" are a quick, safe and cost-effective dental treatment for anyone whose self-confidence and quality of life are affected by missing teeth. "All on 4 dental implants" even work in people who have a lack of bone although some bone rebuilding is sometimes necessary.
We also have a "state of the art" Dental Imaging Referral Centre on the premises which provides us with high quality radiographs & CBCT scans for our implant case planning. This allows precise and safe implant placement.
We understand that healthy gums and functioning, comfortable teeth are our patients' priority. Dental implants are a long-lasting solution to a missing tooth or teeth and can provide a secure anchor for bridges and dentures, allowing you to smile, eat and chew with confidence. Dental implants look, work and feel like real teeth and our many of our patients say that their dental implants feel like a natural part of their mouths.
Dental implants are ideal if your dentures feel loose or cause you to suffer from mouth irritation; problems with speaking and eating, dry mouth or excessive saliva. Restore your taste, your smile and your confidence with dental implants from Early Dental Care.
Dental implants replace the entire missing tooth and come in two parts; the dental implant screw that replaces the tooth root to provide a stable foundation for the second part, a replacement crown that is carefully crafted to blend in seamlessly with your remaining teeth. The bone forms a bond with the new root giving your new crown the same secure foundation as a natural tooth.
Replace a missing tooth or teeth
Restore the mouth's function
Highly qualified and experienced implant surgeon
Same day teeth
"All on 4 dental implants" can replace a whole set of teeth
Prevent that caved in look often seen with dentures
Cost effective & long lasting solution to missing teeth
0% finance & payment options
Crooked teeth can be addressed with orthodontic braces, which work by moving the teeth into a more properly aligned direction. The dental braces usually take the most part of a year, to a few years (depending on the severity of the teeth misalignment) to successfully move the teeth into the desired straighter position.
At Earley Dental Centre we have the know-how to ensure your smile is in skilled hands. When determining your orthodontic care, our experts consider your whole face, your profile, bone tissue and lip and muscular structure.
Our knowledge of face-driven orthodontics is what sets us apart from other dentists offering orthodontic treatment and is applied to every orthodontic patient they treat – regardless of their age. Instead of just looking at straightening your teeth, a face-driven approach focuses on your, or your child's, long-term facial balance and harmony. Our clinicians want your teeth and smile to look as good after a year as they will after 30 years.
Invisalign®
Invisalign® uses a series of invisible, removable, and comfortable aligners to straighten your teeth. And, no one can tell you are wearing Invisalign because it's invisible! Not only are the aligners invisible, they are removable, so you can eat and drink what you want while in treatment, plus brushing and flossing are less of a hassle. The aligners are comfortable and have no metal to cause mouth abrasions during treatment.
Ceramic Braces
Ceramic braces are made of clear materials and are therefore less visible on your teeth than metal braces. For this reason, ceramic braces are used mainly on older teenagers and adult patients who have cosmetic concerns. While they are visually less prominent, they do require more attention to oral hygiene as ceramic braces are larger and are more brittle than their metal counterparts. For these reasons, ceramic braces tend to be used more on upper front teeth than on lower teeth.
Traditional Metal Braces
Traditional metal braces are the most common type of braces and are more comfortable today than ever before. Made of high-grade stainless steel, metal braces straighten your teeth using metal brackets and archwires. With metal braces, you have the option of adding colored elastics (rubber bands) for a more unique and colorful smile.
If you've delayed dental care for many years, you're not alone. Many of our patients haven't visited a dentist in more than five years, and some as many as thirty or more. Dental phobia is one of the most common fears people face, from mild anxiety to extreme distress. Sometimes, the apprehension is so great, a person might not seek treatment for dental pain, leaving his or her smile to deteriorate. It's important to seek the care necessary for optimal oral health, and conscious sedation dentistry calms fears for a relaxing treatment experience.
With safe, effective conscious sedation dentistry, you can get the dental work you need and the smile you deserve, comfortably and without fear. When you wake you will feel refreshed and have no memory of the procedure or having experienced any pain. Best of all, you will probably only need one appointment to complete your treatment. So in just a few hours you can start enjoying the confidence that comes with a bright new smile and good dental health.
At Earley Dental Centre we have taken the utmost care in selecting a highly qualified and experienced medical practitioner who has restricted his practice to the delivery of conscious sedation for the past 20-years. Dr Andre Von Backstrom is a caring and well-liked member of our team and he makes your safety and comfort throughout treatment his priority!
Should you suffer from dental discomfort or dental trauma that results in damage to your teeth and gums, you may require emergency dental care.
Earley Dental Practice kindly offers same-day emergency dental appointments to patients in and around Reading, Earley and the surrounding areas for your convenience.
We understand that a dental emergency can happen at any time; that's why our team is available outside of regular practice hours in the event of a dental emergency.
Emergency dental care can include treatment for:
Broken tooth
Loss of a tooth
Discomfort following dental treatment
Post extraction fever or swelling
A dental abscess
Severe dental discomfort
At your appointment, your experienced dentist will carefully examine your teeth and gums and perform any diagnostic tests as required. These may include digital scans, x-rays, and temperature tests to diagnose and develop a treatment plan.
The overarching aim of emergency treatment is to improve oral health relieve discomfort as soon as possible. Should you require a new restoration, we aim to alleviate immediate irritation or tenderness and provide a temporary repair replaced with a permanent solution in the near future.
If you require urgent treatment, contact Earley Dental Practice on 01189 261655 to book an emergency appointment.
Periodontics is the branch of dentistry primarily concerned with the health of the gums and bone which support the teeth. Gum disease may be superficial gingivitis or more extensive periodontitis. Healthy gums and underlying bone are vital to the retention of teeth; and periodontitis may also be linked with several general health conditions.
Symptoms of Periodontal Disease:
In many cases patients will be unaware that they have gum disease, as gingivitis and periodontitis can be pain-free. Some of the symptoms may include:
Loose or mobile teeth
Swollen gums
Bleeding gums
Drifting teeth
Tartar build-up
Bad breath (halitosis)
Painful swelling around individual teeth
Occasionally gum disease is so severe that a dental referral must be made to a periodontist, or the patient may be in danger of losing a tooth or multiple teeth. The periodontist works with the patient to restore their mouth to health, and thereafter in most cases the patient is returned to the care of their regular dentist and dental hygienist.
Extensive information about periodontal diseases and periodontic treatments is available at the website of the American Academy of Periodontology: www.perio.org.
For years, dentists around the world filled cavities with amalgam fillings made of elemental mercury, silver, tin, copper and possibly other heavy metallic elements. While the toxicity effects of these fillings are still being debated, we have decided to use only tooth-coloured, composite fillings to remedy cavities.
Composite fillings yield a much more attractive and healthier smile with no obvious sign of dental work. We match the filling material to your tooth colour and then bond it securely for a highly durable and great looking way to protect your tooth.
In addition to looking better, these modern, tooth-coloured fillings offer practical advantages over metal fillings, such as less removal of the tooth structure, a tighter seal formed between the filling and the tooth, and they can be repaired or added onto as needed.
Amalgam fillings aren't just unsightly—they also cause further damage to the rest of the tooth and can increase the risk of future fractures.
We replace problematic amalgam fillings with composite alternatives, which have several advantages:
more realistic colour
preserve more of the original tooth
tighter bond between the filling and tooth
easily repaired if necessary
When natural teeth are lost, it is important to replace them. Dentures are removable false teeth which can be provide improved function and appearance, restoring your smile and your dental health after tooth loss.
Modern techniques and materials allow dentures to closely resemble natural teeth, making your smile appear natural and healthy. Most dentures will require some adaptation and getting used to, however, once comfortable will provide a good replacement for missing teeth.
Old or ill-fitting dentures usually present with problems such as clicking, slipping, frequent gum irritation and bad oral odour and they may therefore require adjustment, relining or replacement. Our priority is to work with you to ensure that your dentures are the correct fit.
Removable, full or partial dentures are carefully planned and manufactured from high-impact acrylic or cast cobalt-chrome. They are custom made by a skilled Dental Technician. We are proud of our relationship with carefully selected, highly skilled Dental technicians
A Root Canal (or sometimes call endodontics)– can save your tooth, which is always preferred over tooth loss. How is this accomplished?
The dentist carefully and completely removes the inflamed or infected pulp, then cleans and shapes the inside of the canal (the canal is the chamber inside the root of the tooth). The endodontist then fills and seals the space. After this procedure, a crown or other restoration on the tooth is advised to protect and restore it to full function. After restoration, the tooth continues to function like any other tooth.
Fine lines and wrinkles are a characteristic part of growing older, but perhaps these signs of ageing are leaving you feeling low in confidence?
Wrinkle correction treatment can work to soften static wrinkles, without the need for invasive surgery. It's also great for the prevention of wrinkles, making it a popular treatment with patients in their late 20s, 30s and 40s.
What is wrinkle correction treatment?
The clue is in the name here! Wrinkle correction treatment reduces the appearance of static wrinkles, by temporarily stopping specifically targeted muscles from contracting.
As with the dermal fillers treatment we offer, wrinkle correction treatment is completely customised to the patient's desires. Our injectors are highly experienced at administering fillers safely and are passionate about the artistry and skin science that form part of delivering treatment. We use only the best world-renowned brands when performing facial aesthetics treatments – these include Botox, Bocouture, Azzulure for wrinkle correction treatment.
What can I expect during the wrinkle correction process?
Consultation chat to make sure you're suitable for treatment. We will ask you about the areas of the face you'd like to have treated and suggest a plan to address these.
We will carry out the treatment either in the same visit or another appointment if necessary.
What makes wrinkle correction treatment great?
The injections take as little as 15 minutes to administer.
Subtle, natural-looking results.
Minimally-invasive alternative to surgery.
No recovery period to adhere to. It's completely normal to have some slight swelling after treatment but this is very minimal.
The results last up to 4 months depending on your metabolism.
It can help stop the creation of future wrinkles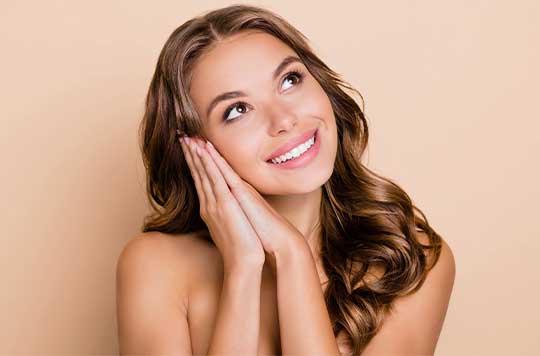 It's completely normal to experience a loss of skin volume and elasticity as you age. This said, it's possible to improve the appearance of ageing skin with dermal fillers, which work by re-administering hyaluronic acid, the substance responsible for youthful, glowing and firm-looking skin. But the benefits of dermal fillers don't stop there – they can also be used to improve the symmetry and structure of particular features such as the nose and lip areas.
What are dermal fillers?
Dermal fillers are a non-surgical facial aesthetics treatment that works to enhance your skin when injected at specific sites. Here at Earley Dental Practice, we use two reputable filler brands, Subskin and JUVÉDERM®. Both products contain hyaluronic acid, which is a property found in the human body, though as we get older the amount of it reduces, triggering the ageing process. The dermal fillers work their magic by replacing the skin's quantity of hyaluronic acid, which has a plumping and tightening effect on loose, dull and wrinkled skin.
We're also able to add hyaluronic acid to areas of the face including the lips and nose, which can be plumped and shaped to look harmonious in the context of your whole face. The hyaluronic acid can alter the appearance of targeted facial features, smoothening out lumps and bumps, with a view to subtly and sympathetically contouring and flattering the face.
We are highly experienced in delivering this treatment for patients and understand how to plan and deliver exceptional treatment that's right for your skin's unique anatomy.
What can I expect during the dermal fillers process?
Consultation chat to make sure you're suitable for treatment. During your consultation, we'll talk about the areas of the face you're looking to enhance.
The fillers are administered painlessly using a fine needle with the use of an anaesthetic if necessary.
What makes dermal fillers great?
They take as little as 15 minutes to administer.
Feeling great in your skin can positively impact your confidence and wellbeing levels.
No recovery period. Some slight swelling and bruising after treatment is normal but will not cause any great discomfort.
Treatment can deliver natural-looking results that complement your facial features and bone structure.